રક્ષાબંધન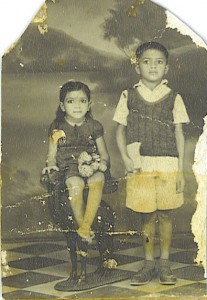 with Munibhai, 1950
જિંદગીમાં   દીર્ઘ    રુજુ   રુણબંધ  ભાઈ બહેનમાં
બે   કીનારા   સ્નેહના    વારી  છલકતા  વ્હેણમાં
 માવડીની       ગોદમાંથી       ખેંચતો      ઉતારવા
વળી બોરજાંબુ    આપતો'તો   બેનીને   મનાવવા
 મસ્તીમાં મારે  ખરો  પણ,  મારવા  ના દે  કોઈને
  હું કદી  વઢું  લડું  પણ  આંચવા  ના  દઊ  કોઈને
 અરે! કોણ આને પરણશે! ચોટલો બાંધી ચીડવતો
 બહેનનો   સુહાગ    શોધે,   કો   કસર  ન  ચલાવતો
 અંતિમ    સમય   હો માતનો  કે કષ્ટનુ  કારણ  હશે
હ્રદયના    ખાસ   ખૂણામાં    સહોદર    હાજર    હશે
 પાનખરના    પ્રહરમાં    હું    આજ  આવીને   ઊભી
બાલપણથી   શુભેચ્છા    સદભાવ   વરસાવી રહી
 અત્યંત    નાજુક   લાગણી  અણકહી  જે  અનુભવી
 પ્રાર્થના,    હીરદોરથી    રક્ષા   કરો     મમ વીરની
———-સરયૂ પરીખ
   

Rakshaa Bandhan
 The longest relationship in my life is with my sibling
               Kind of competing, but caring deep feeling
 My brother, who used to pull me down from my mother's lap,
  Is the one who brought in life the pleasantry and pap 
He might hit me for mischief, but he wouldn't let anyone harm me
I screamed and fought with him, but I wouldn't let anyone scold him.
'Oh, who will marry her?' He used to pull my hair and tease,
But to find a good husband for me, he would not compromise.
It could be the last hours of our mom's life or some trouble in my life,
My brother will be present in that special corner of my heart.
Years have gone by since our childhood has part,
Always shower him well wishes from the bottom of my heart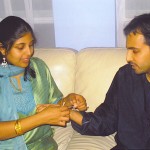 The gentle subtle feelings are wrapped in a string  
          This soft shiny silk pray all the joy to bring 
——————————————————–
Sangita-Samir, 2008